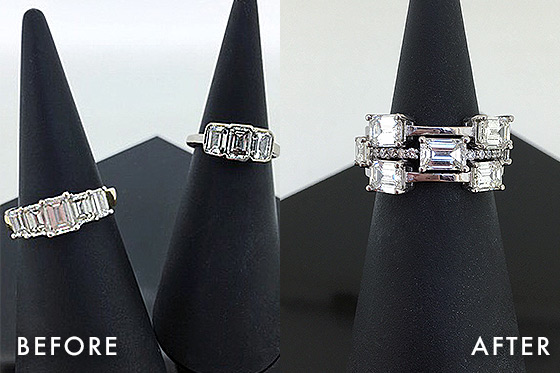 Our Redesign Service provides a complete transformation of a piece or pieces of jewellery into a completely new contemporary design.
For friendy, expert advice on having your jewellery redesigned please contact us on 01443 222 375 or email us at enquiries@diamondcentrewales.com
Two rings into three modern stacker rings
This project involved creating a new contemporary design out of two old rings.
First we met with the client to understand what they had in mind for the new design.
We chatted through ideas and agreed on the new design we could create with the jewellery.
After our experts assessed the stones and metal in the two rings supplied by the client, we identified that with a small amount of additional new material, we could create an exciting, new, contemporary piece.
A few extra small diamonds were added, along with some extra gold to ensure the ring structure was solid and secure.
As registered Diamond Merchants for over thirty years, we are able to provide the widest range of ethically sourced, excellently cut Diamonds at a highly competitive price.
We presented the stunning new ring to our client in relaxing, luxurious surroundings of our Diamond Lounge and she was delighted with her new design.
If you have pieces of jewellery that are gathering dust due to their outdated look then why not make an appointment with us to chat through what sparkling, contemporary designs could be created from them.
Contact one of our friendly, expert team on 01443 222 375 or at enquiries@diamondcentrewales.com to find out more.
Redesign Service