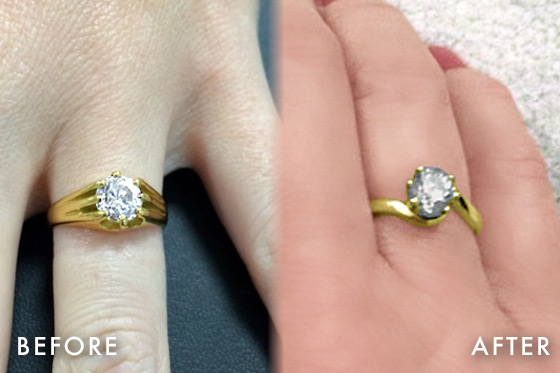 Heirlooms are often items of great worth and sentimental value.
As a family-run business we understand the importance of such pieces. You can rest assured that we will treat the piece with expertise and sensitivity.
If your heirloom looks too old fashioned in style for your current look, Diamond Centre Wales can remodel the piece into a stunning contemporary design.
All our work is carried out in-house, meaning your treasured piece will not leave the safety of our premises.
The redesign of your heirloom can be a complete transformation or a modernisation such as the example above.
This heirloom was given a modern make-over, using all the gold from the original ring, with the addition of a new stronger setting
If you have an heirloom that you would love to wear but feel the piece is too old fashioned or that age has made it too fragile, then do call one of our friendly, expert team for a chat about how we can help you on 01443 222 375 or email us here.
Redesign Service